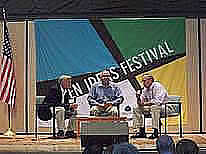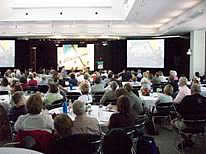 `What will be the result after the world has been changed? What Can You Do?

´
The festival is one of the many gatherings organised by the Aspen Institute. This institute, founded in 1950, is an international nonprofit organization dedicated to fostering enlightened leadership and open-minded dialogue. Through seminars, policy programs, conferences and leadership development initiatives, the Institute and its international partners seek to promote nonpartisan inquiry and an appreciation for timeless values.
The festival, held June 29 up to including July 7, became a great success. Browse the magazine. Motivation for the businesstrip was to develop and to trigger the mind, by which new ideas will grow for further benefit of Europe. Why? Europe is doing well economically, but besides economics there is also a large range of other areas, including for example protection and humanoria, that demands for attention.
The instake of the AI-Festival guarantees to go through sessions, tutorials, conversations, book signings, action oriented discussions, evening exchanges and events of all the fields during 7 days long. Every subject with its own characteristics. It offered a stimulating and invigorating celebration of some of the liveliest minds on the stage today. As participant, there was the opportunity to engage in a large variety of programs, tutorials, and discussion events which together guaranteed to charge the atmosphere with vibrant intellectual exchange. The festival featured more than 250 leaders in various fields, from arts and culture, to science, religion, media, business, academia and politics.
PROGRAM:
Tracks spanning the week include:
Global Dynamics, Arts and Culture, The American Experience, Climate and Sustainability, The 'Big Ideas' and the 'GET ENGAGED!' series.
Four day program tracks:
- first series: Children and Education, Innovation and Technology, Religion and the Modern World, Medicine 2025;
- second series: Global Commerce and the World Economy, The Net Generation, Food, Fuel and Famine, India.
Special events: Receptions and "An Afternoon of Conversation", Special sessions, Breakfest sessions, Lunch sessions, Evening Exchanges, Films, Sponsor Presentations and Special Exhibit.