The UPA is often criticised for:
being a minority-appeasing government. With recent events such as its ongoing reluctance to hang Afzal and also its policy of having caste-based-reservations in government jobs and government educational institutes.
also been loathed for ignoring the interests of the Aam Aadmi, on whose slogans the coalition won power in 2004, while spending too much time and money on pursuing prestige Projects such as the 2010 Commonwealth Game
A speech in May in Parliament delivered information about recently past bills (among other issues, in favour of farmers), Uttar Pradesh (goodwill, but no votes) and terrorism
. The CONGRESS party
shares

:
The ability to see the future;
values and ethos (practical skills and wisdom / virtue, goodness / goodwill towards the audience).
MANIFESTO's:
2014

-

economic growth, right to health, education for all, defence, uplifting backwards sections, women's rights, financial inclusion, dignity of labour, infrastructure investment, better living standards, right to social security, skills & jobs, protecting our children, protecting minorities, right to pension, judicial & electoral accountability, helping the deprived, right to housing

2004, Rajiv agenda for the next century

-

poverty

: (reduction according to report 2004-2007), The Congress has been a great vehicle of social reforms. developing inner person, so that the human beings lives in harmony with other

human beings

, with

Nature

and with the rest of creation, greatest thread:

nuclear weapons

.
ECONOMICS (as seen from the West):
The BRICS (SMO december 2006)

Fruitful mix of high knowledge and low budget production, economic grow, attention to turnover in base of the pyramid, oil (also oil for food scandal). Good quality of products en services. Software and back office functions. Fast developments has its influence on world order. Other mentalities. Believes to a strong own culture.Feudal capitalism and an oase of democracy. Increase of changes on rise in welfare.

Indian multinational TATA
OTHER ITEMS:
Report to the people 2004 – 2007; october 2006 Helsinki: negotations launched on a broad based India-EU trade and investment agreement; Standard Indian bourse is: Mumbai Sensex 30-index; Overstrained markets. Level dealing shares 20x business profits; Fast of long standing economic grow; Level of inflation alarming and explosion of share-quotation; Politics are afraid to strike flat the bubble, because it is thought that they will be a target of the furyness of the investors if the market crash.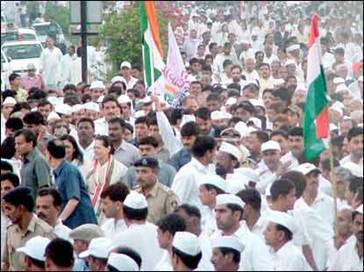 The Dandi March began on March 12, 1930, and was an important part of the Indian independence movement. It was a direct action campaign of tax resistance and nonviolent protest against the British salt monopoly in colonial India, and triggered the wider Civil Disobedience Movement. This was the most significant organized challenge to British authority since the Non-cooperation movement of 1920–22, and directly followed the Purna Swaraj declaration of independence by the Indian National Congress on January 26, 1930.
Mohandas Karamchand Gandhi (commonly called Mahatma Gandhi) led the Dandi march from his base, Sabarmati Ashram near Ahmedabad, to the sea coast near the village of Dandi. As he continued on this 24 day, 240 mile (390 km) march to produce salt without paying the tax, growing numbers of Indians joined him along the way. When Gandhi broke the salt laws at 6:30 am on April 6, 1930, it sparked large scale acts of civil disobedience against the British Raj salt laws by millions of Indians.
The campaign had a significant effect on changing world and British attitude towards Indian independence and caused large numbers of Indians to join the fight for the first time.