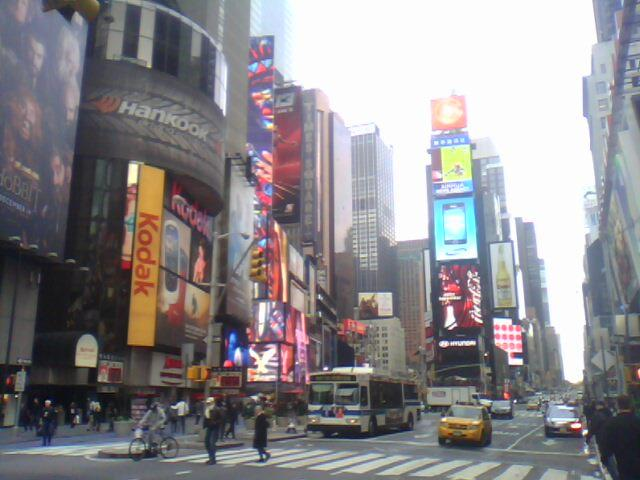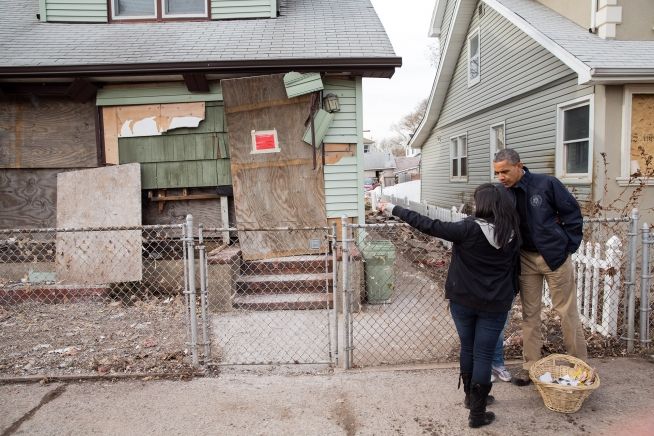 A bit gallingly, downtown's most foresighted and well-heeled swells had already relocated uptown. Graydon Carter and Anna Wintour, among others, were said to have taken up residence at the Mark; a lot of the younger crowd, led by Emma Watson, were at the Carlyle.
Uptown was the new downtown. On Halloween Night, Bemelmans was packed.
Lower Manhattan, rather than the ultimate destination, became a place to go through to get somewhere else, as the enormous traffic jams attested. Downtown was driveover country. At night, it seemed to be a natural landscape, a dark canyonland, gorgeous and lonely. As in all New York disasters, New Yorkers weren't strangers anymore. Out surveying the damage with flashlights, people stopped to talk in tones of hushed amazement. Neighbors needed food and news. Just as with 9/11, the community of New York, always present, was brought into the open.
In some ways, Sandy confirmed our communitarian values, underlining the importance of a government that makes a point of helping out—and that global warming was a problem to be dealt with. (Chris Christie even precipitously switched presidential-candidate best friends.) But no New Yorker can stay a sentimentalist too long. It didn't take much time before the complaints and bickering began, and everything turned darker as the real misery became more apparent.
The death toll kept rising as searchers pushed into the worst-hit areas—it stood at 100 people as of Friday—and some lost everything, over 100 houses in Breezy Point alone. And the city was not exactly overwhelmed with rescue workers and Red Cross trucks. Fury mounted with every hour that electricity and heat and food failed to arrive. In Alphabet City, in Red Hook, out in Staten Island, there were people who needed to fill buckets from hydrants, or scrounge from Dumpsters. By the end of the week, it was clear who was suffering and who had been merely inconvenienced. The news from the outer-boroughs was especially grim; people were fighting over gasoline; scenes from The Road.
The images of water pouring into subways and banks, cars submerged on Avenue A, escalators that needed to be ridden with scuba equipment, brought to mind an apocalypse of a specific kind, another lost city—Atlantis. Was this what New York could become? It's hard to remember, a decade after 9/11, how fragile downtown seemed then, and how long it struggled. But one of the many differences between that event and this one is that, for all the struggle, no one doubted for a moment in the months after 9/11 that New York was at the center of the world, which was a consolation, reinforcing the amour-propre that is a city hallmark. Out-of-towners were solicitous for years afterward. Whereas by Thursday of last week, Los Angelenos were already complaining about not getting their calls returned.
One of the ways to look at a natural disaster is as a test, a challenge to be met, and by these measures, New York City was succeeding. By week's end, normalcy was being returned—if not yet those L.A. phone calls.
The arguing over the marathon was a healthy sign: not could we, but should we? The world should have such troubles. But for hundreds of years, the harbor had given New York its power. In less than 24 hours, it took it away. As we are reminded more and more often these days, it doesn't take long to turn everything on its head. Estimated financial damage: $ 60 billion.
Almost one year ago, Hurricane Sandy devastated the Jersey Shore. In that short time, we've made incredible progress rebuilding. 19 August, Secretary of Housing and Urban Development Shaun Donovan released a report from the Hurricane Sandy Rebuilding Task Force highlighting all the ways we're helping the affected region -- and how communities can plan for the future:
Hurricane Sandy Rebuilding Strategy: Helping Communities Prepare for the Impacts of a Changing Climate
From New Orleans to Cedar Rapids to Tuscaloosa to Minot – I have walked the streets and looked in the eyes of families whose lives have come crashing down around them under nature's wrath. But nothing prepared me to come back home to New York City last October and look in the eyes of my friend who lost his daughter to Hurricane Sandy. Nothing prepared me to see neighborhoods—many of which had served as the backdrop of my childhood—completely unrecognizable. This was all due to the devastating storm that hit our shores in the fall with a power and a fury unlike anything most of us had ever seen before. Entire neighborhoods were flooded. Families and small business owners lost everything in a single night. Infrastructure was torn apart. In short, it was one of the most painful chapters in the region's history and the Obama administration has been committed to helping communities turn the page.

We have worked closely with State and Local governments up and down the East Coast to help prepare for and respond to the storm. Within a week of Sandy making landfall we had 17,000 federal responders on the ground, helping displaced families find shelter and getting communities back on their feet. In addition, the scope of the damage made clear that more assistance was needed, which is why the President fought for, and Congress ultimately passed, a supplemental funding bill providing tens of billions of dollars to help rebuild impacted communities. The President also knew that we needed to do two key things:
1. cut red tape to get assistance where it was needed as quickly as possible, and
2. coordinate the efforts of all of the Federal agencies to support local communities as they rebuilt in a way that made them more resilient. That's why he created the Hurricane Sandy Rebuilding Task Force, which I have the honor to chair.