The Orthodox/Catholic religious divisions become further exacerbated by the use of the Cyrillic alphabet by the Orthodox and Greek Catholics and of the Roman alphabet by Roman Catholics. However, the Serbian language (including Montenegrin) can be written using both the Cyrillic and Roman alphabets (privately, Latinic tends to be more popular, particularly among the youth).
There is also a Latinic script to write in Belarusian, called the Lacinka alphabet. The Bosnian language has at times been written using the Arabic alphabet (mostly in Muslim documents), but it now uses the Roman (in Bosniak, Croat, and Serb areas) and Cyrillic alphabet (in Serb areas).
Ethno-cultural subdivisions
Slavs are customarily divided into three major subgroups: East Slavs, West Slavs, and South Slavs, each with a different and a diverse background based on unique history, religion and culture of particular Slavic group within them. The East Slavs may all be traced to Slavic-speaking populations that were loosely organized under the Kievan Rus' empire beginning in the 9th century A.D. Almost all of the South Slavs can be traced to ethnic Slavs who mixed with the local population of the Balkans (Illyrians, Thracians, Macedonians, Dacians and Getae) and with later invaders from the East (Bulgars, Avars, and Alans), then fell under the hegemony of the Ottoman Empire.
The West Slavs do not share either of these backgrounds, as they expanded to the West and integrated into the cultural sphere of Western (Roman Catholic) Christianity around this timeframe.
Please note that some of the subdivisions remain highly debatable, particularly for smaller groups and national minorities.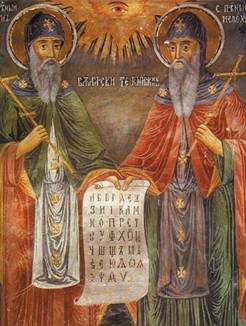 They devised the Cyrillic script on the basis of the Glagolitic. Cyrillic gradually replaced Glagolitic as the alphabet of the Old Church Slavonic language, which became the official language of the Bulgarian Empire and later spread to the Eastern Slav lands of Kievan Rus'. Cyrillic eventually spread throughout most of the Slavic world to become the standard alphabet in the Orthodox Slavic countries. Hence, Cyril and Methodius' efforts also paved the way for the spread of Christianity throughout Eastern Europe.