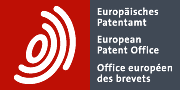 EPO (European Patent Office)
With expert, well-supported staff, motivated to set worldwide standards in quality and efficiency, EPO continue to contribute to innovation across Europe, and play a leading role in developing an effective global patent system. All our relationships - within our Office and with partners around the world - will prosper through trust, transparency, fairness and mutual respect. Our processes will empower our people to use their knowledge and skills to the full. EPO supports innovation, competitiveness and economic growth across Europe through a commitment to high quality and efficient services delivered under the European Patent Convention. The organisation is an intergovernmental organisation that was set up on 7 October 1977 on the basis of the European Patent Convention (EPC) signed in Munich in 1973. It has two bodies, the European Patent Office and the Administrative Council, which supervises the Office's activities.

Modern day inventors, the intellectual descendants of Archimedes and Alexander Graham Bell, will soon be able to obtain low cost patents, enforceable across Europe. With the assent of 480 members of the EU Parliament, in a deal brokered with the EU Council, the final hurdle towards the establishment of a EU-wide patent office was cleared 14 December 2012. "Intellectual property must not stop at the borders". Intellectual property has become a defining element of modern business practice and patents serve an ever more important task - safeguarding innovation.

At present, obtaining a patent, enforceable in all of the member states, is a bureaucratic and costly endeavour, requiring separate patents to be obtained from each member state at costs of up to EUR 36,000 according to figures quoted by the European Parliament. According to the new plans an EU patent may cost as little as EUR 4,725. Considering the international environment, where patents can be obtained in markets such as the US, Japan and China for a mere fraction of the cost, this timely package will undoubtedly assist businesses across the continent, as well as strengthening its hand in international negotiations with the world's leading economies. The new patent system will be governed by a newly established body, the European Patent Organisation (EPO), which is established outside of the EU institutions and answerable to a European Patent Court (EPC). The new system will come into force from January 2014, allowing time for the ratification process to conclude with the member state governments.

Applications for a patent under the new system must be submitted in English, German or French. Mindful of the effect such submission might have on businesses, particularly SME's operating in other national languages within the union, the EU Parliament fought to ensure that the costs involved in obtaining translations for a successful application could be reimbursed. Given that patent submissions may be given in English, the UK is unlikely to be negatively affected by the language restrictions. However, renewal fees, which often account for a significant amount of patent costs, are to be set at levels that take account of the special needs of small firms, which will ensure that low costs prevail.

Although the measure obtained today falls short of a unitary policy, with Italy and Spain choosing to stay outside the new patent it nevertheless provides a more resilient and business friendly package, certain to strengthen innovation. The vote received praise from the Conservative Group, with UK MEP Sajjad Karim, who was involved in negotiations on the new package hailing the measure as a "major advance for the intellectual-property rights of inventors" and in a firm rebuttal to euro sceptics went on to state that "Rather than eroding sovereignty, the measures guarantee that UK businesses will not have to litigate all across Europe but under a single court system which uses English as one of its main languages.

CEPS: Innovation policy is increasingly coming under the spotlight in the European Union, and has been given a prominent role in the EU 2020 strategy and in the flagship initiatives that will aim to ensure that Europe succeeds where the Lisbon strategy failed.
In years to come, problems such as the fragmentation of competences at EU and member state level; the need to fill the 'skills gap' and address the changing nature of innovation; the absence of a Community patent and a common framework for litigation; the need to refine the EU policy on technology transfer and standardisation; and the need to provide suitable funding instruments to boost the potential of innovative companies will all take on more urgency.
The CEPS Task Force on Innovation Policy – chaired by Maria Anvret – reflected on these issues between September 2009 and May 2010. The Report, drafted by Rapporteurs Massimilano Granieri and Andrea Renda on the basis of contributions by industry representatives, officials of EU institutions, academics and practitioners provides recommendations on all the above-mentioned issues, with a view to contributing to one of the greatest challenges of today: unlocking the EU's innovation potential and promoting its competitiveness in a global economy.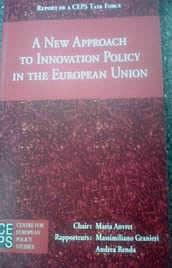 CEPS presented the new approach. Representatives of the European Commission, DG Research and Innovation and DG Enterprise and Industry, of the University of Foggia, Italy and of the business (Volvo, VNO-NCW, Microsoft) cleared up and illustrated it during a meeting 18 February 2011. Governance system is complex, Entrepeneurship is at the heart of Europe 2020, but too few of them innovate, for SME's and industry strengthening the knowledge base, getting good ideas to markets and tracking progress matter as out of the box thinking and enterprising spirit and skills do.
INTRODUCTION AND MAIN RECOMMENDATIONS
The past decade saw a gradual European 'lag' vis-à-vis the US, Asian tigers and several emerging economies in terms of research, development and innovation (R&D&I). The 2009 European Innovation Scoreboard has shown positive signs in some regions, but overall innovative investments by businesses still appear relatively weak.
Importantly, highly dynamic sectors such as ICT (information communication technology) account for almost one half of EU productivity growth, but at the same time are also the main reason for the US-EU gap. Re-launching Europe's ICT sector becomes even more crucial with the upcoming European Digital Agenda, which promises to contribute an estimated €500 billon, or 4% of GDP to the EU economy.
Various reasons account for Europe's gap, certainly including the current fragmentation of the Internal Market and the absence of welldeveloped venture capital; the overly complex governance of EU funding mechanisms, coupled with the extreme fragmentation of funding tools; the red tape associated with access to public funds; the limited mobility of skilled workers throughout the EU27; the absence of legal certainty as regards patent law, technology transfer and standardisation processes; the distance between market needs and public innovation policies; and many others.
Today, nothing is more important for the re-launch of the EU project than unleashing the potential for EU competitiveness through innovation.
EU institutions endorsed this view in the recently adopted EU2020 strategy, which announces seven flagship initiatives, of which at least five are intimately linked with innovation (Innovation Union, Digital Agenda, Resource Efficient Europe, A New Industrial Policy for the new globalisation era and an Agenda for new skills and jobs).
In the report, it is argued that Europe must take a proactive stance towards innovation policy and must do it in a way that accounts for the systemic and changing nature of innovation. The EU approach to innovation policy must be integrated and comprehensive, and should include, inter alia, education policy: the availability of skills should not be seen as limited to improving the attractiveness of Europe to highly qualified European students and researchers; on the contrary, Europe must compete internationally to attract the best skills available worldwide.
The EU approach should also be flexible, since the nature of innovation has changed enormously in the past decade and has also become sector-specific. Today, in some sectors (e.g. ICT) collaboration between market players for the development of complex system goods has become standard practice, and calls for the definition of clear rules related to the standardisation process. At the same time, in other sectors (e.g. chemicals and nanotechnology) the concept of 'open innovation' is permeating new business models, blurring the boundaries between individual firms' R&D efforts and leading to a blossoming new era of collaboration.
The panel of discussants, chaired by Staffan Jerneck (CEPS), featured Maria Anvret (Task Force Chair, Gothenburg University), Ann-Sofie Rönnlund (DG Research and Innovation), Katja Reppel (DG Enterprise and Industry), Massimiliano Granieri (Rapporteur, University of Foggia), Andrea Renda (Rapporteur, CEPS), Lars-Goran Rosengren (Volvo AB) and Joke Van den Bandt (VNO-NCW). CEPS continues the debate on the role of innovation policy for a EU digital single market in its Digital Forum (www.digitalforum.eu), which meets next on March 18th, to debate the findings of the CEPS Task Force Report on Critical Infrastructure Protection in the EU.
Download the report at http://bit.ly/hglhFE
___________________________________________________________________________________________________________________________________________________
One of the breakout sessions during the World Foresight Forum was called 'Technology for innovative solutions' and did fit within the topic 'Science & Technology'. In only half an hour a small group of participants designed a model from out zero in order to be able to innovate, to steer innovation and to conditions that can come to break-throughs. During inventive discussions and argumentations it appeared that there was plenty of enthusiasm, motivation, insight and response to lay down notions for a (complex) model.

'Technology, the tool for humand kind, 'can solve anything'. We need inventors, talent, high education, smart skilled people, call it an 'engeneer society'. Research is required. Around us, there are numberless phenomenia, which will steer a further cause of things: banking processes are lacking, population growth, demands for rescouces, political will influence the process. We also need to use more our human spiritual capacities and organs of senses, such as imagination, creativity, to be able to exchange, to build, connect, discuss, see, hear, learn and to handle multidiscipline way of thinking. Parts from social and moral fields should also be bound up within innovation-processes.
Not only effects on behaviour came also up for discussion (suggested was to adapt behaviour before new things will occur), but also to take innovation up in business-models and to focus on small regions. However, there are also difficult sides. Opposite vested interests (oil, labour, etc.) can create obstacles, by which implementation will be hampered. Suggested was to integrate feed back loops (self and to others). In this connection, also insecurity (e.g. concerning ict - cyberattack) was discussed. Smart usage to change and to achieve the aimed sustainable result, is therefore a need, including a deep and common integration of innovation, including communication on the matter and culture awareness.
Some present drivers, which will trigger innovation, are internet (cloud computing) and the internet of things, 'cities hub' (economic growth, plan, cleaner (low emissions) and safer), quantity of raw materials, healthcare (innovation can achieve both same level and lower costs) and availability of and access to money